Dinning Room Extension Tables.
Second  only  to  hall  tables,  the  dinning  room  table  is  easily  the  most  popular  item  of  furniture  I  make.
For  such  a  simple  structure,  there  is  a  lot  that  goes  into  the  design,  construction  and  polishing  of  a  quality  table.
Below  are  examples  of  three  of  my   extension  tables  as  they   have  had  resurgence  in  the  last  few  years,  mainly  due  to  the   conditions  of  flat/apartment  living.
________________________________________________
Out  of  a  dozen  or  so  extensions  I  have  made,  this  table  is  still  one  of  my  favourites
__________________________________________________________________________________________________
A  nice  smaller  Eastern  Mahogany  extension  with  very  heavily  tapered  legs.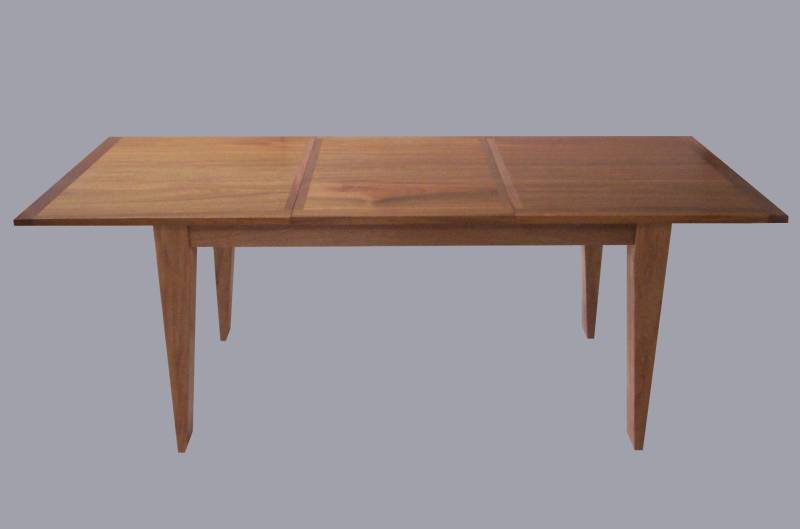 ___________________________________________
A  Messmate  extension  table  with  10  of  my  hand  made  chairs  to  match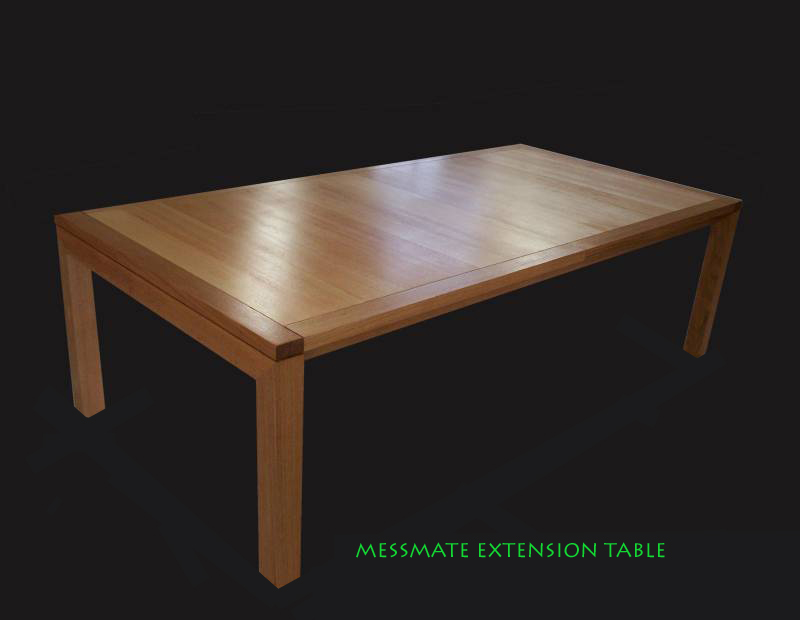 ____________________________________________
Turn  around  time for  the  basic  tables  are  usually  4  weeks,  and  8  weeks  for  Extension  and/or Parquetry tables.
________________________________________
What a Great Table Top This Will Be
I  have  been  getting  a  bit  busy  with  enquiries  and  quotes  and  haven't  finished  this  Bench/Bar  style  table  (complete  with  foot  rail)   in  the  time  frame  I  wanted,   but  this  will  end  up  being  one  sensational  top  for  it.
The  blood  red  of  the  Redgum  will  compliment  the  rich  gold  and  deep  brown  of  the  African  Rosewood  superbly.  I  am  also  very lucky  I  have some  Incredible,  over  the  top  Fiddleback  African  Rosewood  legs  to  match.  This is  gunna  be  a  cracker  of  a  small  table.
So here  is  the  top  all  glued  up.  All  it  needs  is  the  breadboard  ends,   then   it's ready  to  scrape  clean  and  polish.
The  table  will  be  approximately  1300mm  x  550mm  x  900mm (h)  It  will  be  superb  for  use  with  bar  stools.
It  will  end  up  in  my  "For  Sale"  section  very  soon.
The base  is  finally  glued  up,  and  all  that's  left  is  the  twin  rails  down  the  bottom  that  will  be  used  as  a  foot  rail.
So  far  so  good.   Looking  forward  to  getting  them  in  and  getting  the  cabinet  scraper  out  to  finish  it  before  polishing…  This  is  a  "non-sandpapered  table."  Just  the  Shelix  head  on  the  Jointer,  hand  plane  and  cabinet scraper  will be  used.Very  undulating  and  natural  the  surfaces  will  be.  Its  something  I  have  been  wanting  to  do  with  all  my  furniture  for  a  while  now.
N.B.  In  the  background,  you  can  see  the  breadboard  ends  fitted  to  the  top ,  and  the  wild  fiddleback  on  the  legs.
The  final  bit  of  woodwork  now  completed.  The  Bottom  rail  details  below  made  from  my  favourite  Aussie  timber,  Blackbean.   The  rails  are semi  housed  into  the side   rails  with  a  10mm  chamfered  overhang,  and  a  through  mortised  tenon  in  the  middle  for  stability.   All  to  do  now  is  a  final  scrape  and  I  will  start  oiling.
Just like  my  Blackbean  and  Redgum  Burl  Hall  Table (below) The  "black  pitch  pockets"  in  the  center  strip  of  the  above  top,  will  be  cleaned  right  out  and  highlighted,  and  not  filled  with  horrible  black  epoxy…  Yuk.
.
.
_________________________________________________________________________
THE ODDS AND ENDS AND BITS AND PIECES PAGE
Not only do i make Tables, Chairs and Cabinets, but a range of odds and ends like-
Carvings, Boxes, Wine Racks, Chopping Boards and even sometimes for fun, Toys 🙂


A very groovy Jarrah base for a clinker to sit in to be used as a dinning room table

A hand carved Australian Red Cedar, Train "Fly wire screen"

Their is nothing i wont have a go at making.
You think it up, and i will make it.
_________________________________________
______________________________________
PLASMA & LCD TV CABINETS
With Santa handing out a record number of Plasma and LCD televisions this Christmas, I though it would be the perfect opportunity to show the two most popular styles of cabinets I make and sell.
.
The first is the contemporary looking, and now days more popular than ever 3-way miter cabinet (or other common names, Parson Joint or Chinese counter top joint.)
This particular join of mine is all solid, as apposed to the bigger popular commercial furniture outlets, whose joins are butted and doweled with parquetry style veneers, cut at 45 and glued on.
All the framing is solid Sassafras, with the top, drawer fronts and all panels, hand cut veneered Blackheart Sassafras (over Marine ply)
Also note the bottom and two center rails have birds beak joins to visually tie in with the mitered leg/top rails. And just to finish it off, some nice simple Blackwood home made handles.
This is another variation. An open style, with concealed top drawer pulls for that sleek uncluttered look, that goes best with wild wood and veneers.
Note, both these Sassafras cabinets can be made with 100% solid timber and/or combined solid and veneered timbers of your choice.
Next is the simply styled River Red Gum cabinet, suited to most decors.
The main points with this design, are the outer measurements of the TV casing are the exact same as the outside measurements of the legs of the cabinet, this makes the TV and cabinet merge into one,  like it belongs to it, not just  placed on top with no thought to the aesthetics of the design.
The overhang of the top is also a little larger than usual, giving it a nice visual appeal as it takes away the boxy look of the unit.
The other feature is handmade angle iron brackets, bolted flush the to back of the cabinet. The TV is then placed directly on the back of the cabinet top, and then screwed to the brackets. Apart from being very strong, the main reason is to dispose of the unsightly plastic bases that most use. This method of mine not only makes the whole unit look sleek and unique, but if you are going to have quality timber, then why cover it up.
.
.
Turn around time for those interested in purchasing one is usually 3-4 weeks for the simple designs, and up to 8 weeks for the more complex designs.
________________________________________
Three Chairs
Most who know me, know of my love of chair making. Unfortunately in this day and age, cheap inferior Asian imported chairs have totally flooded the market.
Now days when customers enquire about having a set of dining chairs made, they almost faint when they hear the price. It's very sad as a woodworker, that a set of 8 imported dining chairs sell for the equivalent of one quality hand made chair.
So far in 2010, i have made 2 sets of 8 dinning chairs, down from around 15 in 2005.  All isn't lost though, as the rise in numbers for chair reproduction has been dramatic.  Now days its very common for a customer to come to me with a very funky chair purchased from an Opp Shop and request another 1, 5 or 7  copies, and some customers have very old and valuable antique chairs, and one or two are missing and complete exact replacements need to be made.
I find this type of work more rewarding and challenging than standard chair making. In my "Chair" links above, you can see some of the copies. Easy to spot… as they are in pairs.
(THE ABOVE CONOID CHAIR CONSTRUCTION DETAIL
IS SHOWN IN "TIPS & WIPs IN THE NAVIGATION MENU)
Even though hand crafted chair sales have plummeted Australia wide, fortunately, there are excellent woodworkers scattered around the country both Professional and Amateur, who are keeping the art of chair making alive, and producing some stunning work. In the coming weeks I will feature some of those makers and their superb creations.
Shown above, are three of my chairs of vastly different styles and construction methods, and as i have already explained and posted a detailed WIP (work in progress) of the Conoid chair (its in the Tips &  WIPs menu)
Terry
More Extension Tables – with a twist.
I  have  had  terrific  response  from  my  extension  table  thread,  but  one  question  that  popped  up  a  few  times  "Are their any other types I make".
Well  there  is,  and  these  are  a  little  different  than  the  usual  type  (of  this  style)  that  are  shopped  around  these  days.
The  difference  is  in  the  use  of  the  extension  leaves  when  not  used  in  full  extension  mode.  For  this  style  of  table,  most  designs  have  you  putting  them  under  the  couch  or  in  a  wardrobe,  It's  basically  a  lack  of  foresight  and/or  imagination  from  the  designer/makers,  but  not  with  my  tables.
I  have  my  spare  leaves   incorporated  into  either  a  small  table,  or  coffee  table  as  shown  below.
Here  are  two  separate  tables.  Blackwood  and  some  superb  Curly  Messmate,  and  the Coffee  table  (to keep costs down)  was  ordered  using  Victorian  Ash.
This  shows  the  top  the  Coffee  Table  tops  taken  off,  and  added  each  end  to  the  main  table.
What  is  not  shown  in  this photo  below,  is  the  sacrificial  ply  top  (used  with  a  tablecloth  over  it  if  needed)  on  the  Coffee  Table  frame.
Continuing  the  theme  are  two *stained Victorian  Ash  Dinning  tables.
The  *stained – is  to  note  I  despise  staining  timber,  and  if  anyone  wants  Vic  Ash  furniture  from  me  that  is  stained  a  different  colour,  there  is  a  $2500  extra  surcharge  even  for  a  $400  coffee  table   🙂  🙂
____________________________
Business Cards and Flyers
Finally  got  around  to  getting  my  flyers  Photoshopped  and  printed,  and  with  the  help  of  a  few  friends  will  be  coming  soon  to  a  letterbox  near  you.  🙂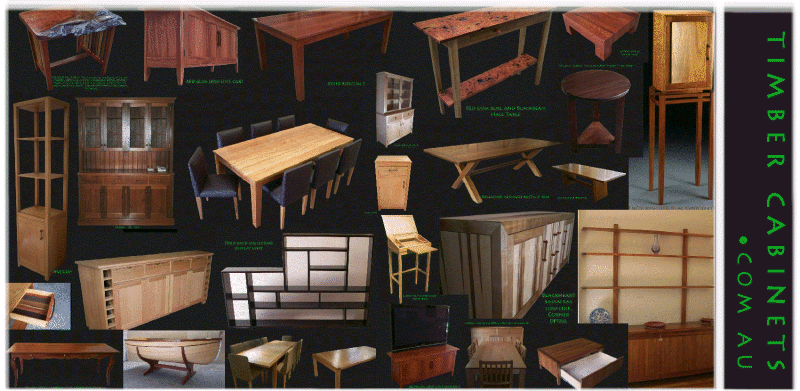 At  the  same  time  I  also  got  around  to  finally  making  a  business  card.  So  much  easier  these  days  doing  it  yourself   rather  than  getting  commercial  printers  doing  it  for  you.  Probably  doesn't  look  as  professional  as  im  only  a  beginner  with  Photoshop,  but  it  serves  its  purpose  by  getting  my  details  out.
And  finally  a  BIG  thank  you  to  Neil  from  Inkjet & Toner  in  Ballarat  for  doing  a  terrific  job  in  printing  them  for  me.  One  of  the  best  spots  in  Ballarat  if  you  need  Printers  or  Cartridges.
One  thing  that  made  me  laugh  is  his  funny  little  delivery  van.  Its  gear  change  stick  is  on  the  dashboard.   What a  cracker  🙂
______________________________________
.
.
.
Don't forget, I also make other styles, and if you have your own design in mind, I will also construct it for you.