In 2018 In Ballarat Victoria, I will be commencing small woodworking classes in sizes up to a maximum of six people, and also one on one private tuition.
Small group classes will focus on two individual projects –
1- Hall Table. This class covers all facets of machine and tool setup, machine usage, safety, basic design principals and the practical details of construction and quality finishing practices, either hand rubbed oil or spray lacquer finishing.
Each student takes home a high quality piece, designed and constructed to professional standards using basic tools and machines available to most home based woodworkers.
2- Chair making. This class focuses on jig based chair design and the practical details of construction. Each student takes home an ergonomically designed contemporary chair ready to be upholstered (or timber seat included if wanted)
One on one tuition
Includes either of the above projects, or an individual project of your choice.
This type of tuition has provided very popular in the past as it's the perfect springboard for your special project, it will get you started on your design, timber, joint selection and construction methods.
You choose to take it home at any time for completion, and I will always be available either in person, or on-line or by phone (at no cost) for extra advice.
Below are some photos of work from my previous students – Enjoy.
__________________________________

This is Carls awesome Hall Table.
Chris came back twice. Once for this unique Hall table and then to make the chair.
This is Kelvin's. I love the curly insert in the top.
Kelvin also couldnt help himself and came back to do the Chair course.
Brads cool She Oak and Jarrah chair.
This Hall table I made as a sample guide for the students, it has 17 different species from Australia and overseas. The are –
Makassar Ebony (breadboard ends).
American spalted beech (top)
Jarrah, Red gum, Blackwood and QLD Beech (legs)
Black bean, African walnut, African rosewood, Burmese Rosewood (rails)
Silky oak, Amoora (bottom rails)
African quilted Cherry (bottom shelf)
Eastern Mahogany (table buttons)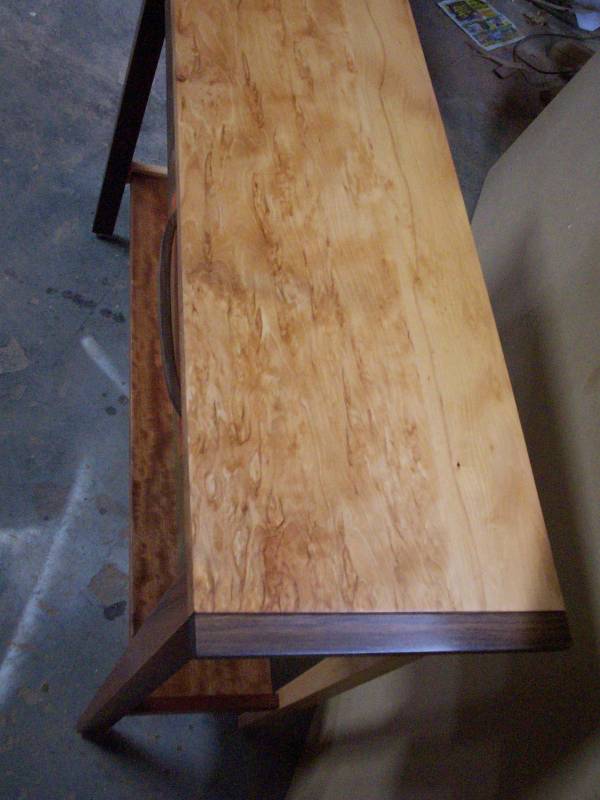 I dont like waste, so i get the students to laminate their off-cuts for panels, or in this case, the drawer base. Its comprised of – African Rosewood, Peruvian walnut, Celery top pine, Blackheart Sassafras, Ebony and Jarrah.
Here is Stu from Stusshed.com.au preparing a solid curly insert for his Hall Table top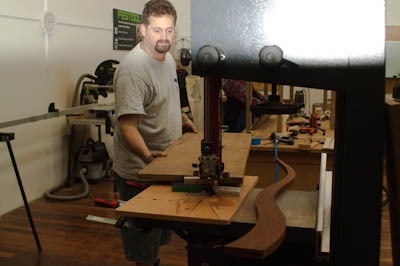 And his little Jarrah tip toes for his legs
Some random workshop photos of the students at play